Regular price
$344.82 USD
Regular price
$362.06 USD
Sale price
$344.82 USD
Unit price
per
Sale
Sold out
MAYRC Kit 100A VESC 6365 6374 90KV 170KV 200KV Hall Motor Wireless Remote Controller for Skateboard Electric
Specification:
Model 1:MTSPF60100
With Aluminum Case:Heatsink Fin
Cont. Current:100A
Input Volt.:11.1-50V
Hardware:Based on V6.0
Firmware: Upgradable
Software:VESCTOOL Compatible
FOC:YES; Better than V4.12
Compatible motor:Sensor or sensorless
Weight:100g

Model 2:MTO6374-170-HA-C2
KV:170
Idle Current:0.8A
Rated Current:60A
Max. Current:65A
Input Volt.:11.1-50V
Max. Output Watt:3510W
Max. Pull:13000g
Resistance:0.0402
Weight:860g
Shaft:10mm with 3mm keyway,output 34mm

Model 3:MTO6374-170-HA-C
KV:170
Idle Current:0.8A
Rated Current:65A
Max. Current:60A
Input Volt.:11.1-50V
Max. Output Watt:3550W
Max. Pull:13000g
Resistance:0.0402
Weight:830g
Shaft:8mm with 3mm keyway,output 26mm

Model 4:MTO6374-HA
KV:90/190
Idle Current:0.8A/1.0A
Rated Current:60A
Max. Current:65A
Input Volt.:11.1-60V/11.1-50V
Max. Output Watt:4000W/3550W
Max. Pull:13000g
Resistance:0.0402
Weight:825g
Motor Type: Brushless outrunner belt-driven Motor
Hall Sensor and Connector: With JST 6pin PH2.0mm hall sensor connector

Model 5:MTO6365-170-HA-C2
KV:170
Idle Current:0.8A
Rated Current:60A
Max. Current:65A
Input Volt.:11.1-50V
Max. Output Watt:3510W
Max. Pull:9700g
Resistance:0.0402
Weight:765g
Shaft:10mm with 3mm keyway,output 34mm

Model 6:MTO6365-170-HA-C
KV:170
Idle Current:0.8A
Rated Current:65A
Max. Current:60A
Input Volt.:11.1-50V
Max. Output Watt:3520W
Max. Pull:9700g
Resistance:0.0402
Weight:760g
Shaft:8mm with 3mm keyway,output 26mm

Model 7:MTO6365-200-HA
Idle Current:0.8A
Rated Current:60A
Max. Current:65A
Input Volt.:11.1-50V
Max. Output Watt:3520W
Max. Pull:9700g
Resistance:0.0402
Weight:745g
Shaft:8mm with 3mm keyway,output 26mm
Motor Cover: Unsealed, great heat dissipation
Motor Type: Brushless outrunner belt-driven Motor
Hall Sensor and Connector: With JST 6pin PH2.0mm hall sensor connector
Motor Cable Connector: 4mm male connector

Model 8:MTSKR2005WF
Waterproof:With glue inside, IP66
Signal Format:PWM
Feature:With 3 speed mode, speed display, distance display, etc.
Working time:>5 hours
Transmission distance:Air 10M
Built-in Relay switch:mechanical 30V 3A
Display screen: 128x64 OLED, yellow and blue
MTSPF60100 Main Features:
1:Firmware upgradable ▶VESCtool compatible speed controller;
2:Soft-switching to reduce the losses in power electronic switches;
3:Adjustable Forward/Backward/Brake;
4:Configurable RPM, Current, Voltage and Power limits;
5:With 5V and 12V external power supply interfaces, no interference caused when powering analog circuits such as twist/thumb throttles.
6:Regenerative Braking Function;
7:Separation of low power electronics from the high power electronics, make it more reliable;
8:Support PPM, Analog (ADC), UART, Canbus input;
【With water-cooled tubes;
【CNC aluminum alloy heat dissipation case with fin, optional water cooling system and forced air cooling system;
9:Communicate with Maytech waterproof remote controller. More parameters can be displayed on remote controller, such as main power voltage, motor rpm, current/amps, motor rpm,motor temperature, speed controller/ESC temperature. Users do not need to solder motor cable to receiver to display the main power and motor rpm, which greatly protect the receiver.
Customized Service:
Customize : Yes,
logo,kv,cover,shaft,cable,connector,case, etc, all can be customized,contact us for more details.

email:shelly@mayrc.com
Gmail:mayrcshelly@gmail.com
MTSKR2005WF Notice before place order:
This MTSKR2005WF is IP66 splashproof, can only use for electric skateboard, please do not use for water sports.
If your surrounded has signal interference, suggest to choose the version with extend antenna, the longer the antenna the stable the signal.
MTSKR2005WF Tips for Usage:
1. This remote only has Esk8 mode, and it's just normal waterproof, can only work for electric skateboard, please do not use for Esurf.
2. The receiver is not waterproof, please keep the receiver away from water, otherwise the receiver would easy to have short circuit
3. Please attention when weld wire on the receiver or when using, each 2 pins do not touch each other, otherwise would easy to burn the receiver.
If you want to use the remote for Electric surfboard/ Efoil, please choose 
MTSKR2005WF Go to the following Youtube Links to check the remote instruction videos:
1. 3 Speed Mode Setting: https://youtu.be/bSyG4k-D76U
2. Remote Main Battery Display Setting: https://youtu.be/ibd0431_NSg
3. Sub-menu 7-14 Settings:
https://youtu.be/O8IgYdbT2-A
Suggestion about Extend Antenna;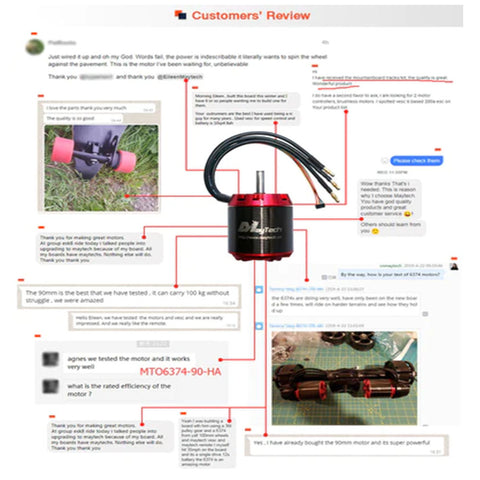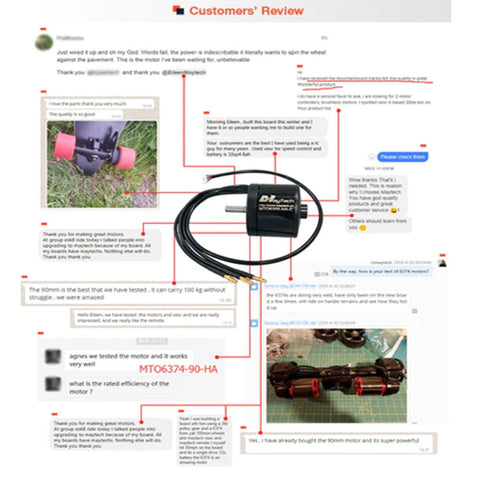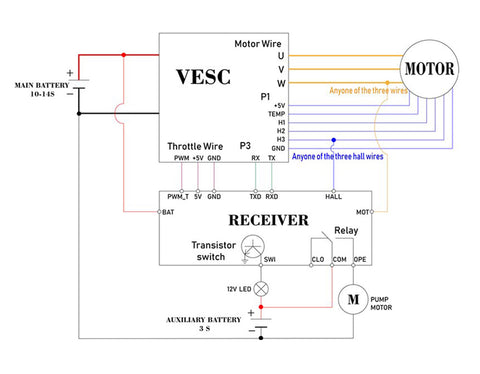 More Non-Waterproof Combination set
More 
Waterproof 
Combination set
Share
View full details