Regular price
$94.12 USD
Sale price
$80.00 USD
Unit price
per
Sale
Sold out
MR-FRE 3D Printing Support Materials Green Purple Easy Peel Rrint Material 1.75mm No Water Soluble Wide Compatibility Printing
Specification: 
Model No
MR-FRE
Cable Net Weight
1kg
Color
Green Purple
Nozzle 

Temperature

280-290℃
Bed Temp
70-80℃
Print Speed

30-90mm/s

Bed
PEI film or coating with PVP Glue
Fan
Off
Cable Size
1.75mm
Feature
Quick-Remove Support Material

Recommended Nozzle Diameter

0.1-1mm

Raft separation distance

0mm

Retraction distance

3.6mm

 

Retraction speed

1800-3600mm/min

Material suitable for MR-FRE

MR-ToughPA

MR-EasePA12-CF

MR-EasPA12-GF

MR-PET-CF

 
Product Description:
MR-FRE is a fast and easy peeling material. By adjusting the bonding strength of the supporting surface when it is in contact with the main material, the interlayer bonding strength of MR-FRE itself realizes the function of quick and easy peeling. The MR-FRE fast and easy peeling support material does not need to use water or solvent soaking and other pretreatment processes during the removal of the support, and does not produce waste water. The solid waste generated after the peeling can be recycled as general plastic garbage, which is safe and environmentally friendly. MR-FRE material can be applied to dual-nozzle FDM printers or two-in-one-out FDM printers without causing the risk of plugging.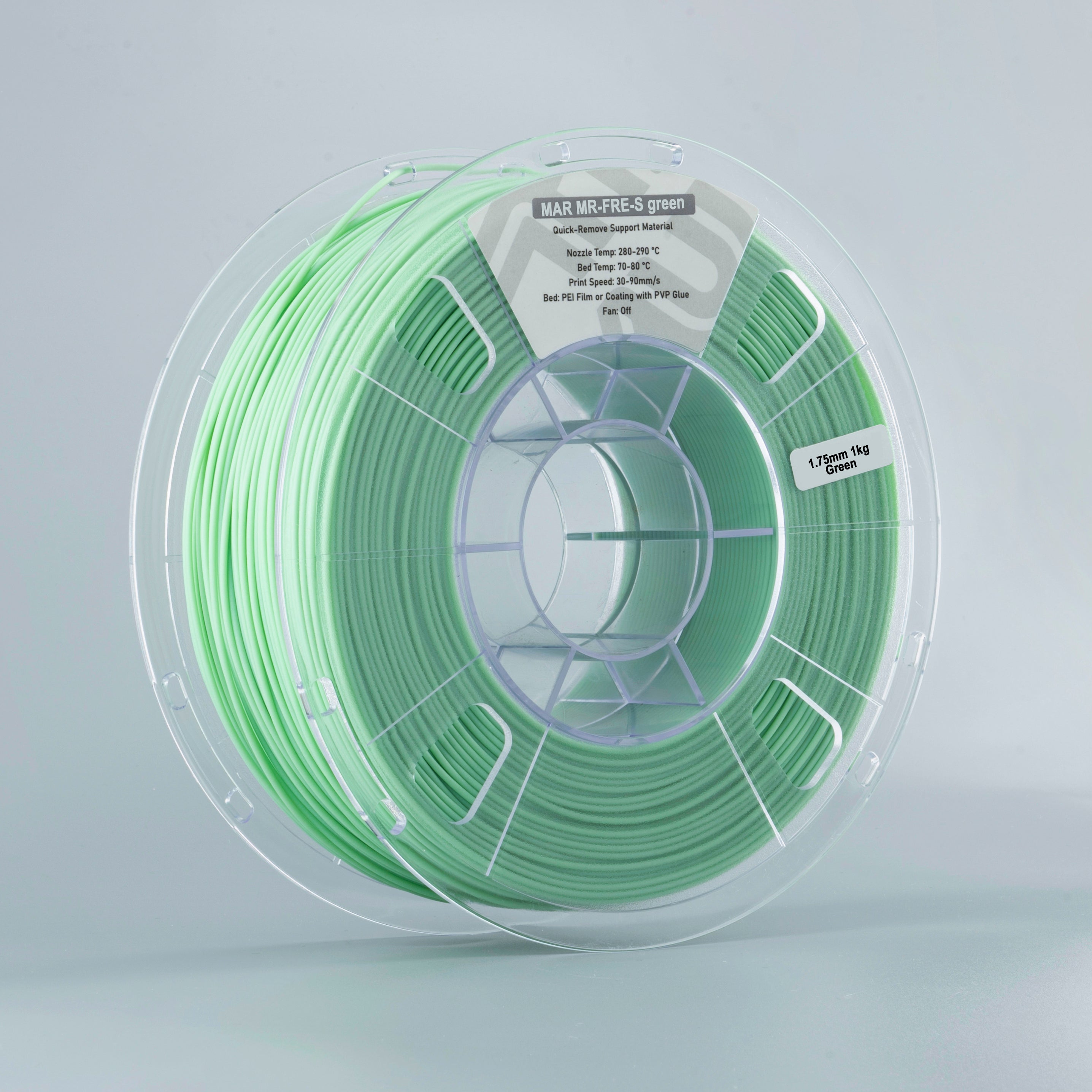 Additional Suggestions:
 1. MR-FRE is very easy to absorb moisture within the environment, and printing after absorbing moisture will result ozzing, extruding with bubbles and rough surface appearance, thus reducing print quality. It is recommended that put the filament into a dry box (humidity below 15%) immediately after opening the UltraPA-GF vacuum foil bag for printing. Please put the unused filament back into the original aluminum foil bag for sealed storage. 
2. After the material is damp, there will be more printing ozzing, bubbles extruded and rough printing surface. Please dry the filament in an oven at 80-100℃ for 4-6h to restore the printing quality of MR-FRE.
3.In the dual-nozzle printing mode, the material in the standby nozzle will be aging due to long-term heating. Before the print nozzle is switched, the aging material in the nozzle needs to be squeezed out, so you must use the partition wipe wall or wipe tower in the slicing software Function
4. It is recommended to use hardened steel and above grade nozzles made by Phaetus, which can effectively improve the print quality. Besides, it is recommended that the thickness of the heating block is longer 12mm. 

5. After the printing is completed, the printed part can be annealed to further improve the strength of print part. Annealing conditions: leave printing part in an oven at 80-100℃ for 4 to 8 hours and cool to room temperature naturally.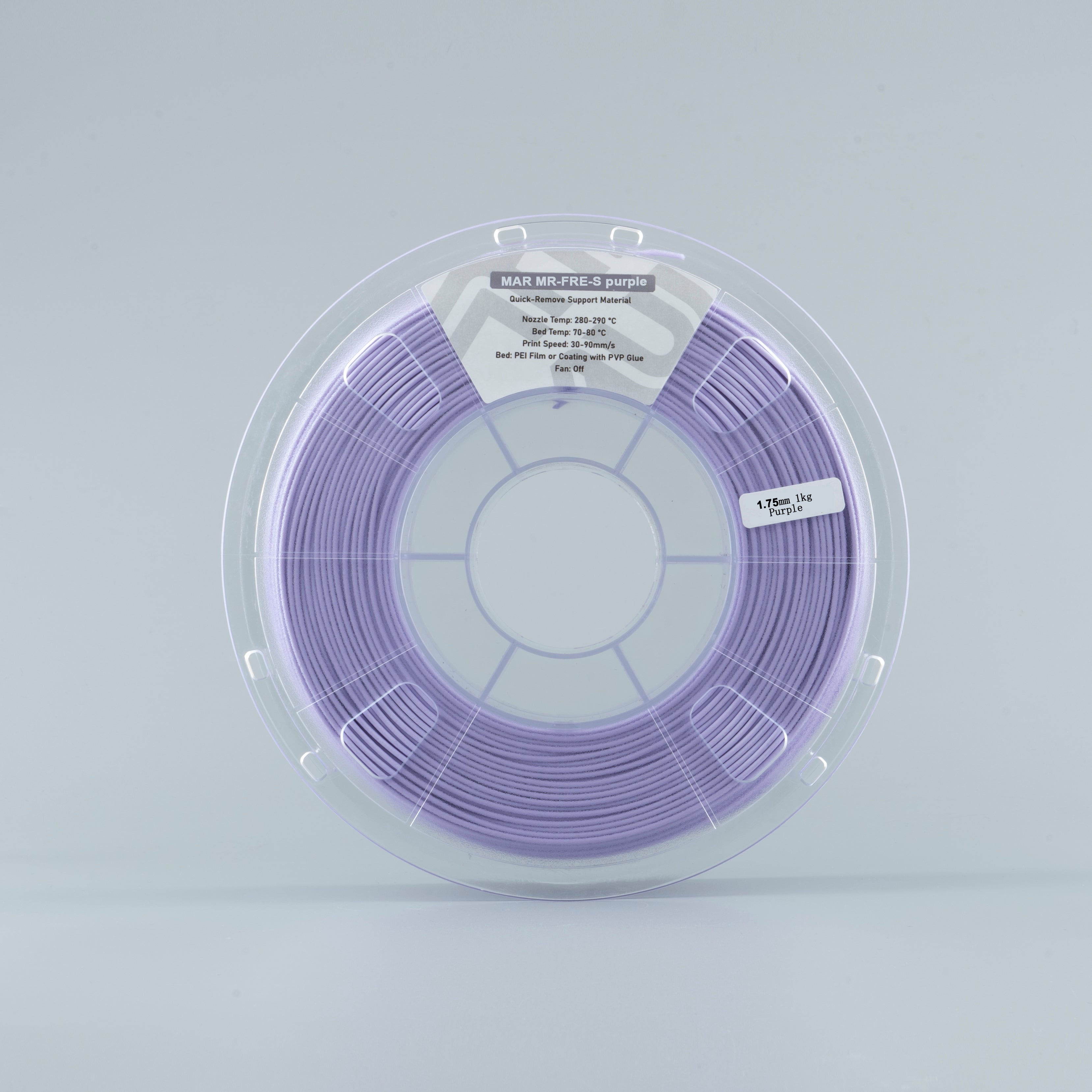 Disclaimer:
The typical values presented in this data sheet are intended for reference and comparison purposes only. They should not be used for design specifications or quality control purposes. Actual values may vary significantly with printing conditions. End- use performance of printed parts depends not only on materials, but also on part design, environmental conditions, printing conditions, etc. Product specifications are subject to change without notice.
Each user is responsible for determining the safety, lawfulness, technical suitability, and disposal/recycling practices of Mar materials for the intended application. Mar makes no warranty of any kind, unless announced separately, to the fitness for any use or application. Mar shall not be made liable for any damage, injury or loss induced from the use of Mar materials in any application.
Share
View full details