Regular price
$104.48 USD
Regular price
Sale price
$104.48 USD
Unit price
per
Sale
Sold out
MAYRC 50A VESC6.0 ESC Speed Controller for Robotic Esk8 Electric Skateboard Motorized Board
Specification:
| | |
| --- | --- |
| Model | MTSPF50A |
| With Aluminum Case | NO |
| Cont. Current | 50A |
| Input Volt. | 11.1-50V |
| Hardware |  Based on V4.12 |
| Firmware | Upgradable |
| Software | VESCTOOL Compatible |
| FOC | YES; ORIGINAL VESC6.0 BOM |
| Compatible motor | Sensor or sensorless |
| Weight | 120g |
Application:
Electric skateboard, mountainboard, elongboard, all terrain skateboard, fighting robots, combat robots, walking robots, ROV, Esurf, Efoil, foilsurf, jetski, electric hydrofoil, etc.
All products had been double checked and tested one by one before shipment, only if the products are working normally would be shipped out. 
Attention Points:
1:When you receive the SuperESC, please test without load and do not connect motor, first check if the SuperESC can successfully connect to your computer, if ok, then connect to motor and you can start to adjust parameters.
2:Do not use switching power supply, the instant voltage when switching power supply connect to SuperESC is very high, which would easy damage the SuperESC.
3:Do not push the throttle too hard when test without load, gently and slowly speed up.
4:Be cautious when adjust parameters, if parameters set mistake, would also easy damage the SuperESC.
5:Please must remember to change to corresponding modes when you adjust parameters, for example, the SuperESC default mode is BLDC mode, but if you want to detect FOC mode and adjusted FOC parameters, at this time if mode in VESC_TOOL didn't change to FOC mode, then when you push throttle, would easy burn the SuperESC, same as FOC mode.
6:In FOC mode, ERPM suggest to control in 30000-40000; In BLDC moed, ERPM suggest to control in 50000-60000, otherwise driver IC would easy to be damaged. ERPM= motor pole pairs number * KV * Voltage
ERPM= motor pole pairs number * KV * Voltage
7:If you use UART port, the wire better do not over 0.5m or even shorter, and better use Stranded wire.
8:For V4 based SuperESC:
Do not suggest to use FOC mode, suggest to use BLDC mode.
If need to use FOC mode, then must use voltage under 20V.
9:The above are only suggestions based on the experience of our engineers. how to actually operate is up to you. Parameters for different setup is also different, please noted.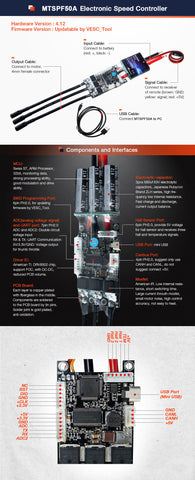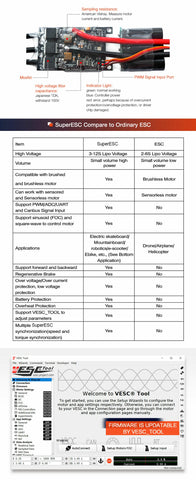 Products that can be used together (Click the following pictures to check more products)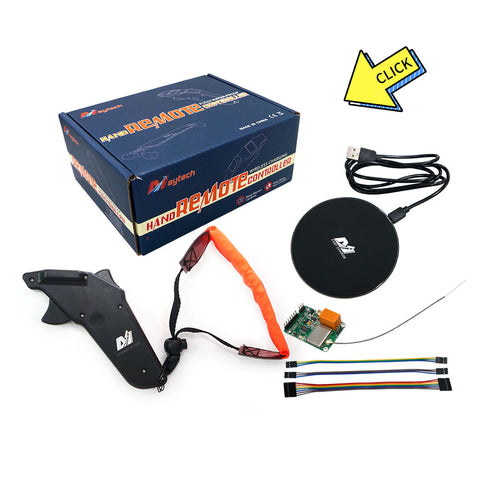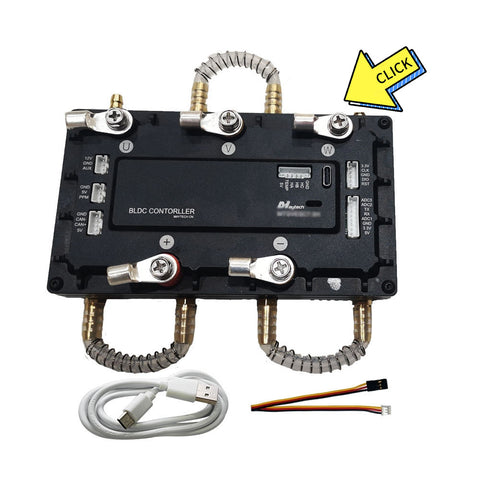 Share
View full details