Regular price
$1,165.50 USD
Regular price
Sale price
$1,165.50 USD
Unit price
per
Sale
Sold out
MAYRC Kit Set 400A Speed Controller 65162 70182 85165 100KV 200KV Waterproof Motor IP68 Remote for E Foiling
Specifications:
Model 1: MTSPF7.5H-WP
Cont. Current:400A
Max. Current:1000A
Volt.:25-85V
Water-cooled:
【With water-cooled tubes;
【CNC aluminum alloy heat dissipation case with fin, optional water cooling system and forced air cooling system;
Size:148*84*56mm with Aluminum case
Weight:900g
Notice:
1. Never connect one reclever to two or more V6/V75 based SUPERFOC ESCs or VESCs in an array!
Permanent damage may result from Y-PPM wiring.
2. Only connect CAN L and CAN H ! GND pins and 5V should never be connected in a V6/V75 based SUPERFOC ESCs or VESC array.

Model 2 :MTI65162-100-SF
KV: 100
Waterproof: IP68
RPM/V/Max RPM:100/14300
Idle Current:1.6A
Rated Current:240
Max Current (A):310
Rated/Max Torque(N*M):7/9.0N*M
Max Power:9.1KW
Winding Turns/Construction:4T/18N/6P
Motor&Shaft Size(mm):65x 162mm&12mm
Weight:2.1g
Shaft: Threaded shaft
Pole Number: 18N6P
Input Voltage: 25-126V
Cable Length: 1.3m
Connector: 8.0mm gold-plated male connector
Customize: Logo, cable length, connector, cover, shaft, etc., contact us

Model 3:MTI70182-100-SF
RPM/V/Max RPM:100/12350
Idle Current@10V:2.0A
Rated Current/Max Current (A):120A/150
Working Voltage:35-118V
Rated/Max Torque(N*M):10.8/13.5N*M
Max Power(10S):9KW
Winding Turns/Construction:3T/12N/10P
Motor&Shaft Size(mm):Φ70x 182mm&12mm
Net Weight (kg):3.1

Model 4 : MTI85165
KV : 200KV, KV can be Customized
Product Name: Fully Waterproof Brushless Motor Sensored &Sensorless Motor
Waterproof Rank: IP68 Waterproof
Water-cooled: No
Max Current: 300A
Max Output Watt: 15000W
Rated Power: 9.5KW
Input Volt: 50-84V (8S-16S lipo)
Max Torque: 15.5N.m
Cable Length:1.2m

Model 5:MTI85165-200-SF
KV: 200KV, KV can be customized, contact us
Input Voltage: 6-12S Lipo (25V-50V) for 200KV
Max Power: 10.5KW
Waterproof: WP version is waterproof, SF version is watercooled
Hall Sensor: Without
Temp Sensor: With NTC10k Thermistor
Cooling Way:
Waterproof version: by water, the motor need to work directly in water for cooling
Watercooled version: through cooling tube by water pressure or water pump
Shaft: Keyway Shaft (waterproof version); Screw Shaft (watercooled version)

Model 6:MTSKR1905WF
Application:Esk8, Mountainboard, Esurf, Efoil,boat, etc
Max Voltage detection range: 5-80V ±5%
Hall/Motor phase wire RPM detection range: 0-80000 ERPM Relay
Switch Max current: 3A;
Transistor switch max current: 2A; VESC communication protocol
Fully Waterproof:Yes
Display Screen:Yes
Display Parameters:Voltage, remote & battery power, signal strength, distance,RPM
Frequency:2.4GHZ
Mode:Esk8/Esurf
Wireless Charging:Yes
Accessories:Receiver, strape, 3pcs Dupont cable, Wireless charging pad
Note:
MTSPF7.5H-WP Delivery time: 15 days
Because engineers need to make waterproof treatment, so the delivery time is 15 days。

MTSPF7.5H-WP Features:
1:Firmware upgradable ▶VESCtool compatible speed controller;
2:Soft-switching to reduce the losses in power electronic switches;
3:Adjustable Forward/Backward/Brake;
4:Configurable RPM, Current, Voltage and Power limits;
5:With 5V and 12V external power supply interfaces, no interference caused when powering analog circuits such as twist/thumb throttles.
6:Regenerative Braking Function;
7:Separation of low power electronics from the high power electronics, make it more reliable;
8:Support PPM, Analog (ADC), UART, Canbus input;
【With water-cooled tubes;
【CNC aluminum alloy heat dissipation case with fin, optional water cooling system and forced air cooling system;
9:Communicate with Maytech waterproof remote controller. More parameters can be displayed on remote controller, such as main power voltage, motor rpm, current/amps, motor rpm,motor temperature, speed controller/ESC temperature. Users do not need to solder motor cable to receiver to display the main power and motor rpm, which greatly protect the receiver.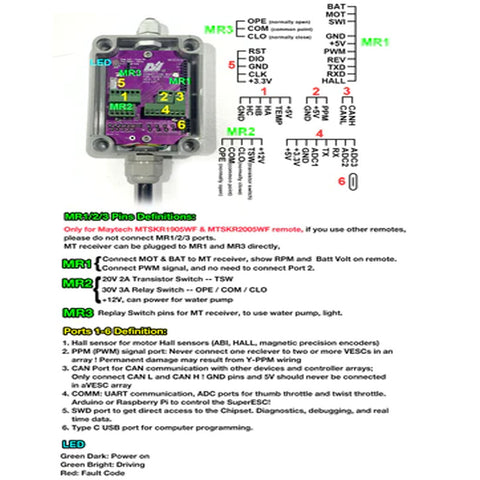 More Waterproof Combination set
Share
View full details