Regular price
$309.90 USD
Regular price
$364.60 USD
Sale price
$309.90 USD
Unit price
per
Sale
Sold out
Options:
Option 1: MTVESC7.12 without cooling fan and UBEC
Option 2:  MTVESC7.12 with 20W cooling fan and UBEC
Model No.

MT

VESC7.12

 
VESC_TOOL Compatible
Yes

Cont. Current

200A

Max. Current

300A

Input Volt

3-12S
Case Size

98.5mm(L)x55.5mm(W)x35.5mm(H)

Firmware

Updatable
Hardware
V7.5
BEC
5V/1.5A
Compatible Motor
Sensored & Sensorless
Application:
Electric skateboard, Esk8, longboard, mountainboard, offroad skateboard, city skateboard, street skateboard, motorized skateboard, electric longboard, electric surfboard, Esurf, Efoil, electric foil, foilsurf, foilsurfing, surffoil, surfjet, jetski, jetboard, electric hydrofoil, etc.,, ROV/ROVEEE/remote operated vehicle, underwater robot, Underwater Robotics, underwater remotely operated vehicles, subsea robots, cablecam, Ultra drones, security monitoring robots, robots for security and safety monitoring in harsh terrain, agile robots, autonomous agile robots, security robots, autonomously monitor security, combat robots, fighting robots, etc.,

Features:
-High voltage: If use current mode, without brake, max voltage is 60V; If use current mode with brake or duty cycle mode, max voltage is 12S lipo (Max 50.4V).
-High current: 200A
-Compatible with brushed and brushless motors, intrunner and outrunner motors
-Sensored or Sensorless operation + Hybrid mode
-Adjustable Forward/Backward/Brake
-Regenerative Braking Function
-Configurable RPM, Current, Voltage and Power limits
-Support PPM, Analog (ADC), UART, Canbus input
-Support BLDC square wave mode control and FOC sine wave mode
-Communication ports: USB, CAN, UART
-Throttle curve and ramping for all input sources
-Seamless 4-quadrant operation
-Motor Revolution, Amp Hour, Watt Hour counting
-Real time data analysis and read out via communication ports
-Adjustable protection against:
Max and Minimum Input(Battery) Voltage
Max Motor Current and Input(Battery) Current limits
Max ERPM(RPM) (separate limits for each direction)
Max Power (Wattage)
Max Motor and ESC Temperature
Max Regenerative Braking Current (separate limits for the motor and the input)
Port definations:
1. USB port for programming;
2.LED Port for connecting customer's LED light to show ESC is on or off;
3.Sensor port for motor Hall sensors (ABI, HALL, magnetic precision encoders);
4.CAN Port for CAN communication with other devices and VESC arrays;
5.COMM port for various kinds of other communication methods like I2C, ADC, Uart,You can use your Arduino or Raspberry Pi to control the VESC!
6. PPM port to connect PPM transceivers.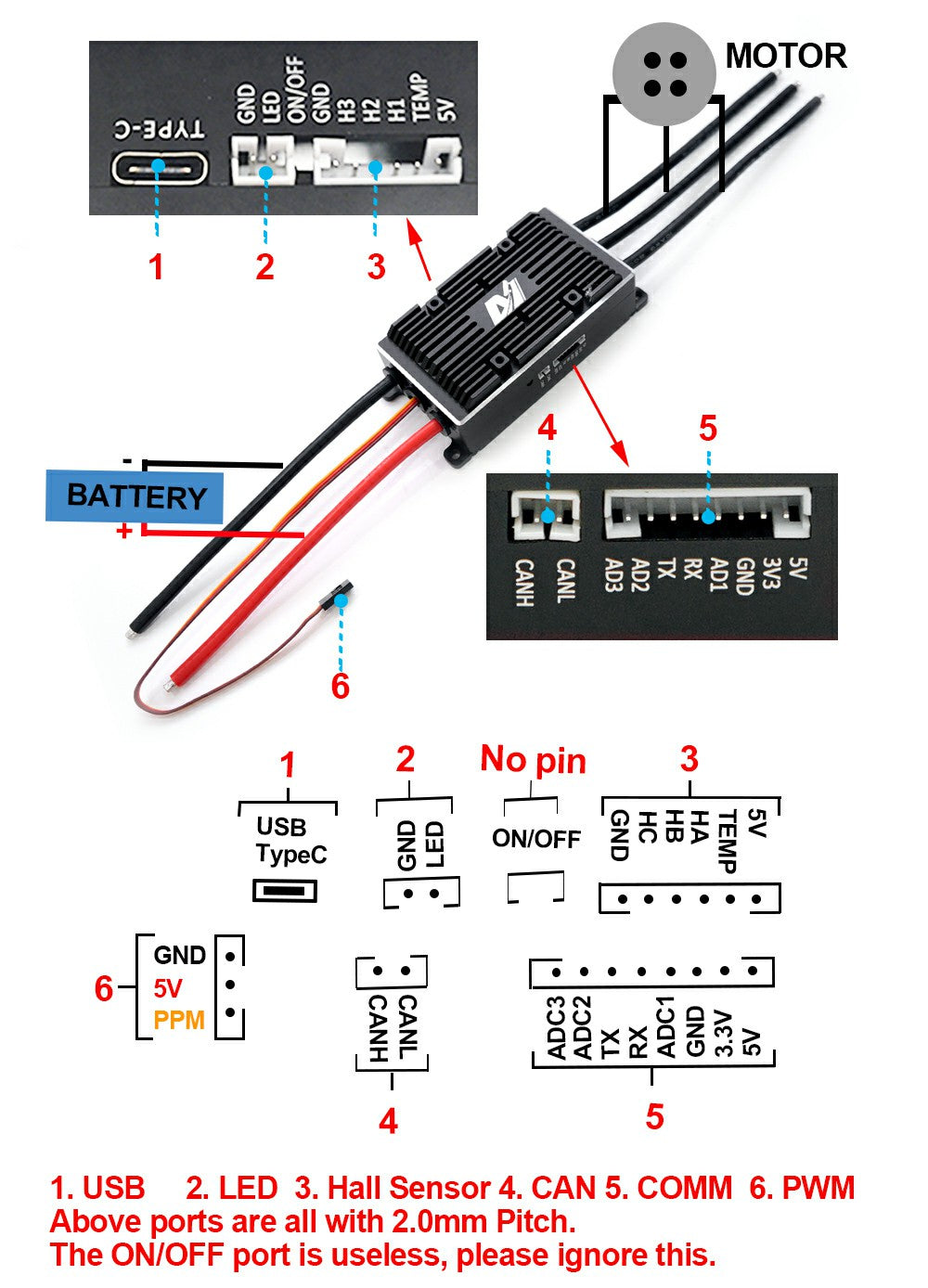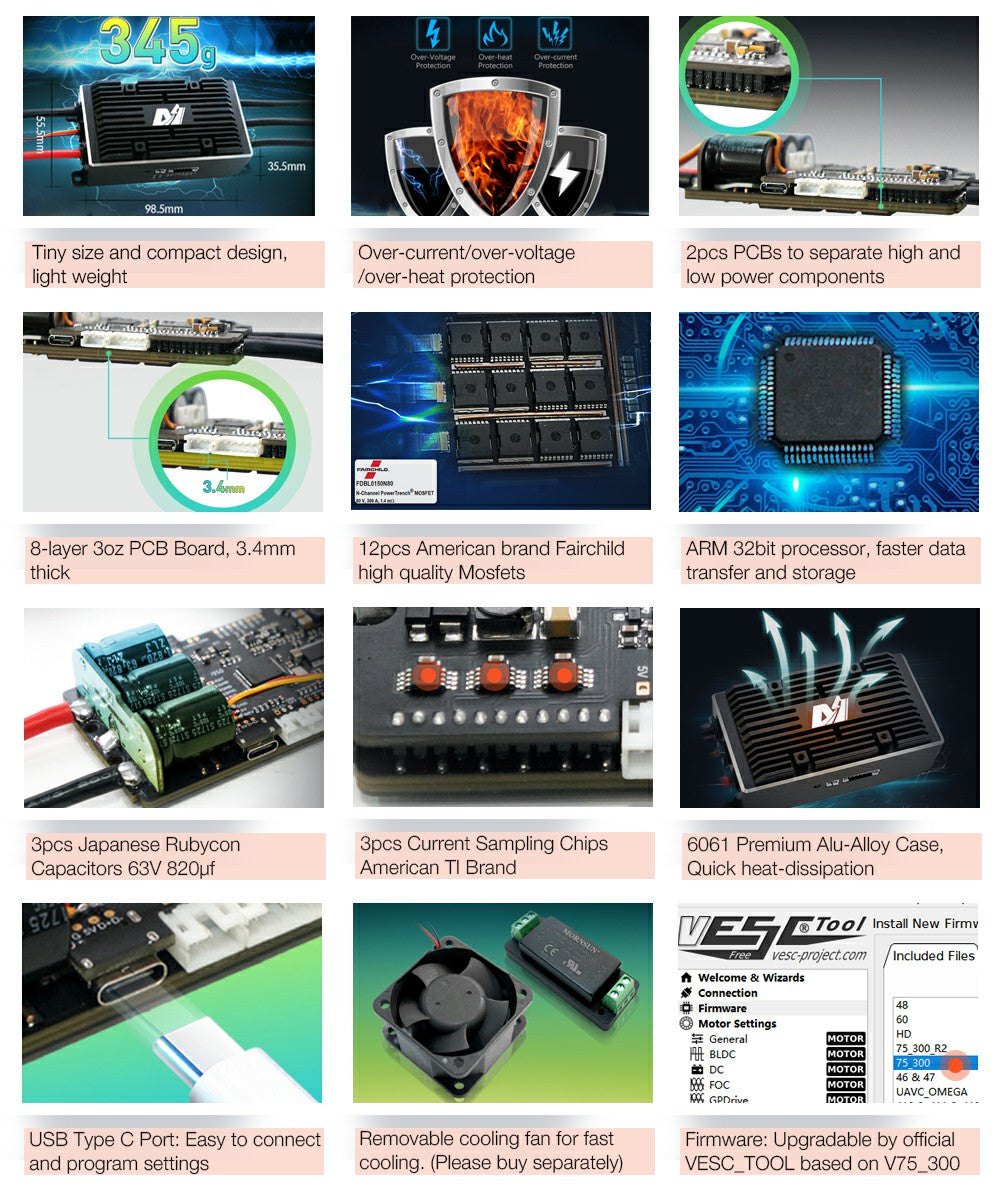 Fan and UBEC Assemble Instruction
Using Tips:
When you receive the VESC, please test without load and do not connect motor, first check if the VESC can successfully connect to your computer, if ok, then connect to motor and you can start to adjust parameters.
Do not use switching power supply, the instant voltage when switching power supply connect to VESC is very high, which would easy damage the VESC. 
Do not push the throttle too hard when test without load, gently and slowly speed up.
Be cautious when adjust parameters, if parameters set mistake, would also easy damage the VESC.
Please must remember to change to corresponding modes when you adjust parameters. For example, the VESC default mode is BLDC mode.If you want to detect FOC mode and adjusted FOC parameters, please change to FOC mode. Or the VESC would easy to burn. 
For V6 in FOC mode, ERPM can't over 50000, otherwise driver IC would easy to be damaged.
ERPM= motor pole pairs number * KV * Voltage
If you use UART port, the wire better do not over 0.5m or even shorter, and better use Stranded wire. 
Share
View full details